"After moving to a new town, two brothers discover that the area is a haven for vampires."
Is there really anything else you need to know before clicking the play button? I don't think so.
I have loved this movie for years but somehow, despite the fact that I own it, I have never made Sugar sit down and watch it until now.
I know, I have failed as a friend. You don't need to lecture me about it. >:O
Admit it – That saxophone player just does it for you.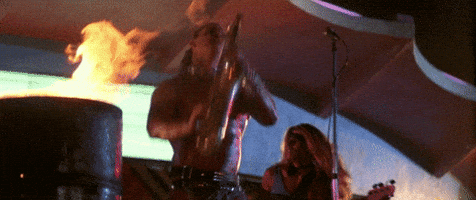 Sugar – I mean, if a glistening buff dude in purple spandex busting out sweet, sweet sax solos with his rockin' ponytail doesn't do it for you, what will? 😛 Plus, he ensured I knew just how 80's of a movie I was in store for!
Scream – He welcomes you to the movie and lets you know what kind of eye candy you're in for. I'm not dogging on him other than the sweat/baby oil thing he's got going on. I appreciate how into his sweet jams he is.
2. The most important part of any vampire movie, did you like the vampires?
Sugar – I did! I was so happy they brought some ugly out when they were ready to go in for the kill, and I liked the different bits of lore the movie explored as well.
Scream – I loved the vampires. They were actual monsters. Although, I will admit to finding several of them very sexy still. We were born in the 80's and grew up in the 90's. I feel like we're destined to have a confused sexual attraction to vampires who are actually monsters and not just misunderstood sex machines.
3. Will you now adopt a dog so you will know when any vampires are near?
Sugar – My cat really loves being an only child, but unless she starts earning her keep and warning me about vampires, she may just wind up getting a canine sibling very soon. 😉
Scream – I mean, I have two dogs and it explains why Samus barks at absolutely everything. I live in a town full of vampires. She's actually been a good dog warning me and I keep just telling her to shut up.
4. The Coreys, yay or nay?
Sugar –  I actually don't know a whole lot about these two, especially Haim, but they were both a lot of fun in this movie, so it's a yay from me.
Scream – YAY. I love the Coreys. I wish they had been able to do more together and that Hollywood hadn't fucked up their lives.
5. Will you ever forgive your best friend for not making you watch this sooner?
Sugar – Well, better late to the party than never, right? 🙂 I'm sure Kid-Me would have loved this movie too, but at least I get to enjoy it now! 
Scream – Notice she never actually answered the question. D:
If you have never watched The Lost Boys, do it.